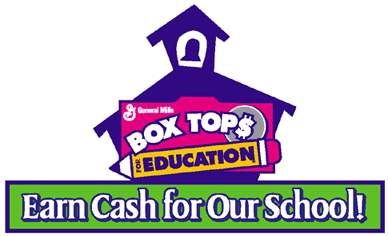 PTSA raises money for Seminole Middle School from our box tops collection program. It's pretty easy – clip the coupons from box top sponsored products. Send them to school with your student or drop them by the front office. Each box top coupon is worth 10 cents to our school. Our goal is to raise $1,500 this year.
Box tops can be sent into school at any time. PTSA has also encouraged student participation by offering contests with gift card prize drawings. Follow these instructions if your student wishes to participate:
Use the form attached below. Or any half sheet of 8 1/2 x 11 paper.

Attach 10 box tops to the half sheet of paper.

Write student's name, grade and 1st period teacher at the top right corner.

Have student turn box top sheets into their 1st period teacher or one of the collection boxes in the front office and cafeteria.
Each sheet is worth $1.00 to Seminole Middle School and is considered 1 entry in the gift card prize drawing. Example – 10 sheets are worth $10 and will enter your name 10 times.
Please make sure the entire box top coupon is included – cut on the perforated lines (partial tops not accepted). Check expiration date to ensure that the date is not prior to the contest deadline. Bonus Box Tops may be turned in at any time, but will not be eligible for contest drawings. Contest winners will be announced during morning announcements.
Additional forms may also be found in the SMS front office.
2016-2017 Contest Deadlines:
September 26, 2016 October 31, 2016 January 31, 2017 February 28, 2017 May 30, 2017
For additional questions, contact Angelika Smith (Box Tops Chairperson) angelikasmith@hotmail.com